by Carl Foster
The first time I saw Troy Aikman, he was admiring a Frieda Kahlo painting with a mild look of jollity in his football-shaped eyes. To see him there, combing through his hair with two chapped hands, you would think he had a date with that painting on the chilly Tuesday afternoon that followed the beginning of the New Year. I could not believe this was the man notoriously referred to as "Doctor Shang" by the British press. His benign stance and the long knife holstered at his side created a paradox, like...
Click for the Full Story.
by Mark Piper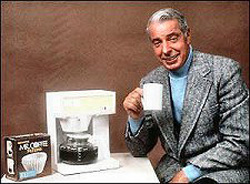 Remember those Mr. Coffee commercials featuring Joe DiMaggio? Sure you do. In fact, if you said the name "Joe DiMaggio" to most people, the first response from too many of them would be, "Mr. Coffee." The thing is, he wouldn't ever have been Mr. Coffee if he hadn't first been Joltin' Joe, The Yankee Clipper … Joe DiMaggio, one of the greatest baseball players who ever lived. I mean the man was once married to Marilyn Monroe, for Christ's sake.
Click for the Full Story.
by Marko Fong
Ever since I got on as shift manager at the Indian Casino, I figured he'd come in eventually. So, there's this geezer at the blackjack table who's losing big. He looks awful, like he's a hundred and sixty years old. He's got my nose and forehead or should I say that I have his? We stare at one another a second time.
"Abraham, it's me, Ishmael, remember? I'm your...
Click for the Full Story.
by Marko Fong
Fifteen minutes before closing, we pushed our way through a three–deep crowd at Deal Club to get the last ones. At the register we ask, "Stupid question, but what is it?"
The clerk laughs, "Relax, everyone asks that. Forever Plastic's got a lifetime warranty, break it or lose it and the company gives you a million...
Click for the Full Story.
Rod Stewart and My Ex-Girlfriend Ruined My Date
by Nathaniel Hansen
I could have wooed Samantha with tulips, a box of Godiva chocolates, and (I discovered to my disgust) the "music" of Rod Stewart. Instead, I gave her a coupon book from a squeaky-voiced middle-school kid. He was standing on my porch, finger digging in his ear, when I stepped outside on my way to her place.
Click for the Full Story.
Crazy is the New Desperate
by John Rachel
Crazy is the New Desperate
by John Rachel

An excerpt from the upcoming full-length novel "12-12-12"
Ed...
Click for the Full Story.
Questioning the End of Faith
by Mike Gentilucci
Should Muslims really be free to believe that the Creator of the universe is concerned about hemlines? Why would someone as conspicuously devoid of personal grievances or psychological dysfunction as Osama bin Laden—who is neither poor, uneducated, delusional, nor a prior victim of Western aggression—devote himself to cave-dwelling...
Click for the Full Story.
The Sea Snake and The Sea Turtle
by Anna McDonald

Once upon a time there was a beautiful, fashionable Sea Snake and a wise, but passé Sea Turtle. The Sea snake lived in the warm, tropical waters of the Pacific. He heard all the fish in the Gulf of Mexico were jealous of the bright colors of Pacific fish. They wanted bright colors with flashy designs, too.

The...
Click for the Full Story.
Page 1 of 2