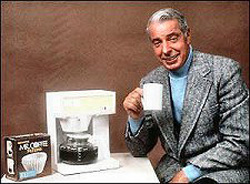 Remember those Mr. Coffee commercials featuring Joe DiMaggio? Sure you do. In fact, if you said the name "Joe DiMaggio" to most people, the first response from too many of them would be, "Mr. Coffee." The thing is, he wouldn't ever have been Mr. Coffee if he hadn't first been Joltin' Joe, The Yankee Clipper … Joe DiMaggio, one of the greatest baseball players who ever lived. I mean the man was once married to Marilyn Monroe, for Christ's sake.

The sad thing for me, though, wasn't that Joe chose to let them capitalize on his name and reputation in order to sell a plastic and glass contraption that makes the universal drug we call coffee. No, the real tragedy was that, for too many people, he wasn't actually the Joe DiMaggio who roamed center field for the Yankees, who set the one baseball record that's never likely to be broken when he hit safely in 56 straight games. He was only a guy who used to be that Joe DiMaggio.

Part of my anxiety about all this comes from the fact that he was only able to be Joe DiMaggio, the extraordinary baseball player, for such a short, short time. Because nobody really cares about what he became after he was no longer able to be The Yankee Clipper—except for a few coffee drinkers who liked those Mr. Coffee commercials.

See, in most cases, no matter what an ex-ballplayer does with his life, he's only remembered because he used to be something else—something more important. And no matter what how he feels about it, other people will always think of him as someone who "used to be" and—by implication—someone who isn't anymore.

An unfortunate fact of life for pro athletes is that, by the time most of your contemporaries are just getting started in careers, yours will be over. No matter how sweet the fame and glory, the celebrity and the accolades die too damn soon. You may have once been a hero … but, in the end, you've become just regular person, like the rest of us. And that feels a lot like failure.

***

I played baseball with Rip Bailey in high school. Yeah, that Rip Bailey—the same guy who spent five years in the big leagues a while back. His real name was "Richard" and he went by "Rick." He was one hell of a hitter, even in high school. When he stepped up to the plate, the coach used to yell out, "Rip one Rick!" It didn't take long for the rest of us to begin calling him "Rip," all the time. The nickname stuck. That's the name he went by when he signed with the Mariners for a huge bonus right out of high school. He's the only guy I ever knew personally who actually became a baseball card. I've long ago gotten rid of my card collection, but I've picked up a couple of Rip Baileys in the years since.

One of the highlights of my life is that I was scouted by the New York Yankees, back in high school. My name, my physical characteristics, my failings, my weaknesses, and maybe even my strengths (I hustled) were all dutifully written down in a small notebook by a grizzled old baseball scout. He did that for a few of us on the team. Of course, the scout was there to see high school sensation Rip Bailey, and he only included notes about me because, well, the Yankees are very thorough.

Rip was the shortstop. I played second. And even though Rip earned his share of awards in the minors as a shortstop, including being selected the Most Valuable Player in the Texas League, he was mostly an outfielder his whole career in the big leagues.

I never got to see Rip play in person when he was with the Mariners. I caught some games on TV when I could. After a stint in the Army, I was off to college and graduate school in small towns too far away from any big league city. But I did see him play when he was on his downhill slide and back in the minors. I was finishing my doctorate in History. Rip was in the Astros minor league system then, and he was in town to play against our local Phillies farm team. I arrived early so I might have a chance to say hello to Rip before the game.

I was nervous when I made my way down to the front row next to the visitors dugout, though I wasn't entirely sure why. I guess I figured he might not remember me. Maybe we weren't really as close as high school teammates as I remembered it. Besides, at that point, I'd grown my hair longer, and I had a mustache.

Rip recognized me right away, though, and he seemed genuinely happy to see me. I wanted to hug him, but, of course, I couldn't. We were both grown men. "You're looking good," I told him. I knew about his bum knee, and that it was the main reason the Mariners released him. But he still looked like an athlete.

We agreed to go out for a beer after the game, and I made my way back to my seat. I'm not sure why I was nervous watching Rip play. Maybe it was because I knew he wasn't the dominant hitter he was years ago. He struck out a couple of times, but I was thrilled to see him club a long double in his last at bat. He wasn't dead yet.

We met at a local tavern near Rip's hotel. We did our best not to notice how awkward it was to try to act as if nothing really significant had changed since we'd last been together. We made a valiant attempt to discover if either of us had kept up with any of our friends from high school, but that proved to be a dead end. He was impressed that I was earning my Ph.D., even though I played it down. I was a little embarrassed by the whole thing. At the time we were both in our mid thirties, but the truth was, he was an "old pro" and I was something like a "rising star" in my profession. So why did I feel like the loser? He told me he wasn't planning on playing ball much longer. Rip had been offered a car dealership back home, and he was interested. We both knew that the whole thing was an attempt to capitalize on his name and local celebrity. But we didn't talk about that part of it.

After a couple of beers and a burger he let me know he had to get back to the hotel. The team bus was heading out for the next small town first thing in the morning, and he needed to get to some sleep. I told him I had some studying to do. We were getting better at tossing lies back and forth as if we were playing a casual game of catch. We exchanged phone numbers on the pretense that either of us would ever likely call. Rip insisted on paying.

When the barmaid brought the bill, she seemed a little nervous. "I'm sorry," she said, "but would you do me a favor?"

"Sure," Rip grinned. I think he was assuming she was just another autograph seeker.

"See those two guys at the bar?" She nodded toward them.

We looked over but neither of them made eye contact.

"They have a bet going that you can settle."

"Sure, what's the bet?" Rip asked.

"Did you used to be Rip Bailey?"

I stepped into the breech. "Let me tell you a little secret, Miss. The guy they're wondering about not only used to be Rip Bailey … he still is."

Rip laughed.

When she was gone, he turned to me. "Hey, buddy, it's no big deal. They didn't mean anything. It happens sometimes these days."

Maybe it was something he'd become used to, but it was new for me. And I didn't like it.

We said goodbye and I headed off to my car feeling sad. It wasn't that Rip had no future outside of baseball. He did. He could make a big success of that car dealership. He could even go on to make millions in real estate or insurance or whatever he chose. He was smart enough and he was a good guy. But it wasn't the big leagues. It wasn't baseball. And any success he had would be based primarily on his reputation as a former big league ballplayer. The thing is, though, he won't be that anymore. The marquee over his car dealership would never read "Rip Bailey, Has-Been," but that's what it would be implying. His time in the limelight, his success on the national stage has been too short. Now it's over, and Rip knows it better than anyone. Whatever success he achieves in business isn't going to match the feeling of hitting a double off the wall in Anaheim to knock in the winning run and clinch the Division Championship for the Mariners. Oh sure, he'll talk of past glories with people who ask. He'll do what he needs to do to sell another car. Rip's new career might go on a whole lot longer than his time in the big leagues. But it's not the same.

I guess I just wanted to give him a little more time … a few extra innings. I wanted him to be able to stay on top of the game I still loved, so he could stay Number 22, Rip Bailey, Right Field, batting fifth in the Mariners lineup. Just like he used to be.

I fully admit that my view may be a little distorted. It's better to have a proud history, to be a guy who used to be a big leaguer, than it is to never have done it at all. I suppose, for those of us who never had what it takes to pursue a pro baseball career, it's a bit of the "grass is always greener" syndrome. Short as that career must inevitably be, it's still major league baseball. And you can still dream.

A few years ago, my wife and I were watching the movie version of Damn Yankees on television. Part way through the movie, she turned to me with a desperate, suspicious look on her face. She asked me point blank if I'd ever do what Joe Boyd did … if I'd sell my soul to the devil for a chance at playing big league ball. She meant would I leave her and our children behind if there were some magical way to transform myself into a pro ballplayer. Of course we both knew the answer. We had a good laugh over it anyway.

 

Mark Piper has been writing professionally his entire adult life. He holds a PhD in English from the University of Oregon, and he taught literature and writing at the college level for several years. He has written three novels, three screenplays, and several short stories. His story, "A Perfect Arrangement," was recently featured in the inaugural issue of

The California Writers Club Literary Review

.